ECEAE Prize award ceremony brings together EU politicians and scientists from across Europe
---
The unique prize for animal-free antibodies was awarded on 30. March 2022 in Brussels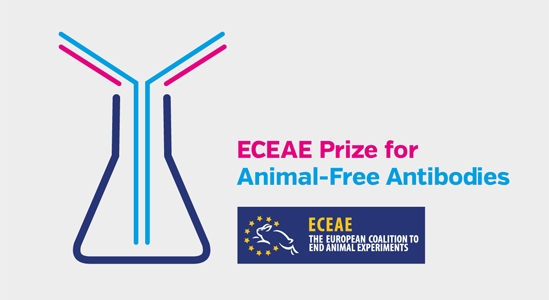 The European Coalition to End Animal Experiments (ECEAE) awarded the first prize in the world dedicated to the development and application of animal-free antibodies. The two winners from Germany and Switzerland presented their extraordinary contributions to the field of non-animal antibodies. The event also featured talks and discussions about the importance of animal-free antibody production by members of the EU Parliament and the EURL ECVAM's Joint Research Centre (JRC).
In support of EURL ECVAM's "Recommendation on non-animal-derived antibodies", ECEAE issued the world's only Prize for the exemplary development and application of animal-free antibodies. At the international award ceremony in Brussels yesterday, two superb candidates received equivalent prizes, amounting to 10.000 euros each. Both prize-winning projects are completely free of animal testing or materials and greatly contribute to the development, distribution and promotion of animal-free antibodies worldwide.
One award winner is the company Abcalis GmbH from Braunschweig, Germany, which is one of the pioneers in animal-free antibody production via state-of-the-art phage display technology. At the award ceremony, Abcalis' co-founder, Dr Esther Wenzel, spoke about the company's projects aiming to replace the largest group of animal-derived antibodies with superior, widely affordable vegan "multiclonal" antibodies. "Animal-free antibodies deserve an equal chance. Try to take a non-animal antibody the next time you order antibodies." urged Dr Wenzel.
The other prize was awarded to Prof. Dr Pierre Cosson and his colleagues at the Geneva Antibody Facility at the University of Geneva, Switzerland. In their freely accessible ABCD database, the winners list thousands of recombinant animal-free antibodies, which are made available to all interested researchers. Dr Cosson and his colleagues also created the open access scientific journal "Antibody Reports". "What we have here is a complete toolbox that can be used by every researcher to find the antibody that they need." said Dr Cosson.
The internationally attended award ceremony was opened with welcome notes from ECEAE's member of the board, Dr Corina Gericke. The event featured talks from two invited speakers, Tilly Metz, MEP from the Group of the Greens, and Joao Barroso, a member of the Joint Research Centre (JRC) of the European Commission and EURL ECVAM. The speakers endorsed the need to move away from animal-derived antibodies and explained how this can be achieved in the EU. "We can and we should and we must fund non-animal methods better. Legislators and regulators are currently way behind public opinion and demands Phasing out animal testing should be a political priority." stated Tilly Metz.
ECEAE encourages all biomedical researchers to adopt the use of animal-free antibodies and reagents in their work and urges the EU Commission, as well as individual member states to implement ECVAM's "Recommendation on non-animal-derived antibodies".
Further information
---
Viegas Barroso JF et al. EURL ECVAM recommendation on non-animal-derived antibodies, Publications Office of the European Union, 2020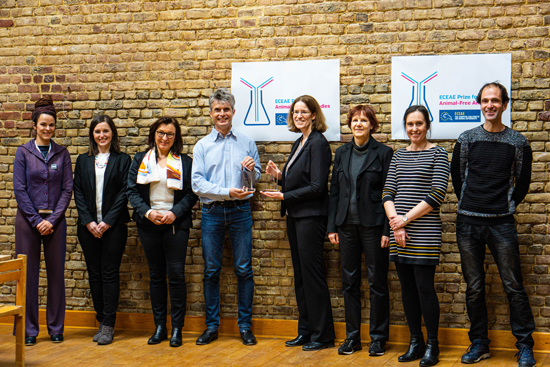 From left.: Jen Hochmuth (ECEAE/Animal Rights), Dilyana Filipova (DAAE), Tilly Metz (MEP), winners Pierre Cosson and Esther Wenzel, Corina Gericke (ECEAE/DAAE), Tamara Zietek (ECEAE/DAAE), Jordi Gispert Giron (ECEAE/ADDA)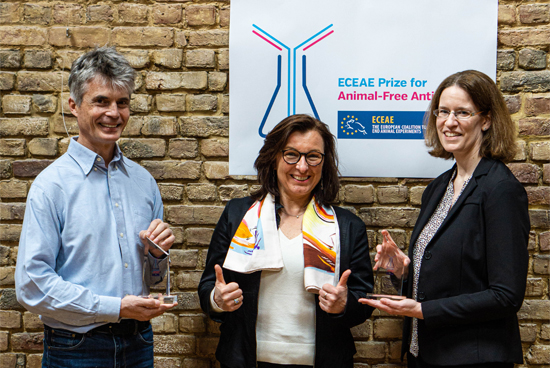 Winners Pierre Cosson and Esther Wenzel with MEP Tilly Metz (middle)